OUR CHURCH & YOUR PERFECT WEDDING
The Kelleys Island Historical Association is pleased to offer, for rent, our historic Old Stone Church for special events, such as weddings, funerals, and meetings. All the details are on the attached. Please note that our Members receive a $50 discount on each rental. This is a one of a kind, intimate, and unique location. Imagine being married in this lovely church!
About the Church – This historic church, built in 1866, has deep set windows, an altar area, and original wooden pews. There is even a (non-working) pot belly stove inside the building. It's called the Frost Killer! A recent concert revealed that the acoustics are phenomenal; resonating every clear, pure tone.
Please note that the building is not handicapped accessible, nor does it have many of the amenities that you would expect. There is no running water. Bathrooms are located in the Museum next door, which may not be open during your activity, but there are public restrooms next to Kelley's Hall downtown, a short drive or a 10-minute walk away.
The church is fully air conditioned and heated The interior of the church has pews that seat about 75 people and a small number of chairs. The pews and large pot-belly stove cannot be moved. There are shades on the windows to darken the interior. While candles are beautiful, we cannot allow them inside the church due to fire regulations, but battery operated candles look great. There are no light fixtures in the church, but there are electric outlets along the walls.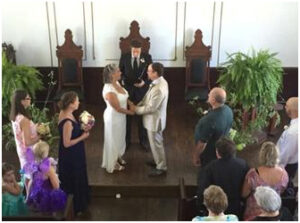 The rental fee covers the use of the Old Stone Church. This rental does not include the use of the adjoining grounds but does allow the use of the front yard for gathering. Since there is no food allowed inside the church, a tent and a small number of tables may be set up in the front yard for casual gatherings before or after the event.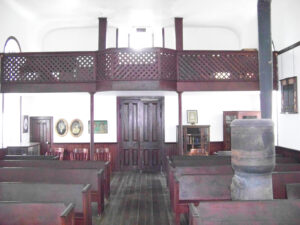 Parking is limited, please take this into consideration in your plans. There is no parking on the grass. We suggest you arrange for a taxi, tram or car-pool to transport guests to the church. The Kelleys Island Chamber of Commerce can assist you with these arrangements. Their email address is [email protected].
Yes, there are caterers and florists on the island and plenty of places to stay. There are a few more details, included in the which you can download and review.